What is compounding?
Compounding is the creation of a particular pharmaceutical product to fit the unique need of a patient. To do this, our pharmacists combine or process appropriate ingredients using various sterile equipment. This may be done to change the form of the medication from a solid pill to a liquid, to avoid a non-essential ingredient that the patient is allergic to, or to obtain the exact dose(s) needed or deemed best of particular active pharmaceutical ingredient(s). Compounds can be more effective than traditional prescription medications with less side effects as well. Nour Specialty Pharmacy specializes in the following compounds: pain creams, wound creams, scar cream, gout cream, migraine treatment, peripheral artery disease, plantar fasciitis, psoriasis topical cream, and anti-fungal creams. For a list of our services, see below.
Nour Pharmacy works with your prescriber to find the most appropriate treatment plan for your condition. For more information or for a free consultation, please call us at (973) 955-4000.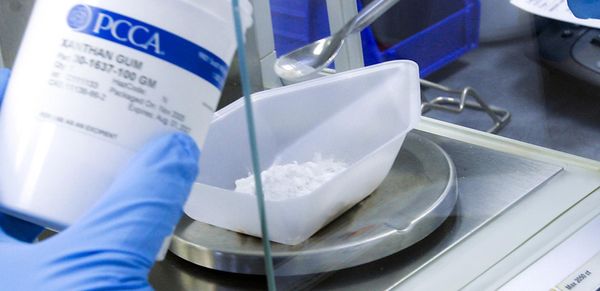 Topical Pain Management
Musculoskeletal Pain
Joint Pain
Migraine Treatment
Neurological Pain
Podiatry
Sports Medicine
Vascular Pain
Plantar Fibromatosis
Gout Pain
Scar Therapy
Nour Specialty Pharmacy is committed to quality
As more and more patients turn to compounding to relieve symptoms with fewer side effects, the need to maintain quality standards has become paramount to ensure patient safety and treatment efficacy.
PCCA Member
We use only FDA approved compound ingredients of the highest purity, and follow strict compounding protocols.
PCCA's Quality Control department is exhaustively devoted to assuring the quality of the chemicals received, repackaged, and sold to our members. From the moment a chemical arrives to the time it ships to a member, it is monitored by Quality Control and Quality Assurance personnel. The dedicated QC lab performs as many as nine qualitative analyses on each chemical lot, and reviews the results and specifications of the Certificate of Analysis.
If the product is compromised in any way, it fails the inspection and is rejected. Inspection of incoming materials is paramount to the quality system and compliance with current Good Manufacturing Practices and Regulations.
Steps include:
Obtaining a Certificate of Analysis for all chemicals received
Verifying the identity of every bulk chemical received before repackaging and completing a second identity test after repackaging
Conducting regular tests of all chemicals in inventory
Verifying all unique identifier numbers prior to shipping.
As a distributor and repackager of both Active and Non-Active Pharmaceutical Ingredients for pharmacy compounding, PCCA is registered and inspected by the FDA and DEA. The company is licensed in the state of Texas and all other states where licensure is required.